Review: Electric Zoo, NYC 2010 – Day 1
Dj Endgame
| Wednesday, September 8th, 2010 |
1 Comment »
In case you missed it, a handful of Toronto's Vital Crew headed down to New York City to check out the massive Electric Zoo Festival. Here's a run through of the highs and lows, and the other cool stuff we noticed along the way. (Full Review After The Jump)
.

.

.

.
Day 1 – The Entry:
We took a cab across the bridge, and let the rumble of the bass guide us to the fairgrounds.  We got there pretty early, (about noon) and there were no lines for Will Call tickets.  Security was really friendly and helpful, and got us through the gates very quickly.  As a bonus the Sunday School Grove area was right beside the lineup, so we got to enjoy the sounds of Joris Voorn as we went through the entry process.
At this point, Joris had been playing some great techy house, the sun was shining and we were raring to go – so we got in, got our little EZ set times booklet, and headed straight for the Sunday School dancefloor. (…er…dancegrass?)
The scene was amazing. A huge tree in the middle of the tent, the décor on the stage was fantastic, and just added to a great summer, partying-in-the-outdoors vibe.  It's funny how nature and electronic music always go so well together.
.

.
Joris Voorn:
This guy was unstoppable.  I wasn't sure what to expect as we walked through the gates, but the second we stepped under the tent, the familiar vocals of Nalin & Kane – Beachball (Joris Voorn Remix) blasted through the speakers, and our feet hit the floor. (This was a huge surprise for me, because until that day, I never really liked Voorn, now I'm all over his sound!)
Absolutely amazing set, and the vibe in the tent, and on the grass all around the tent, was just incredible.  Joris' set was coming to a close, and we realized we hadn't checked out the rest of the grounds yet, so we went to explore before  Tom Middleton on the mainstage.
.
As we headed across the field, all the low end frequencies from all the tents converged on a central point, and it added to the excitement. More people were starting to fill into the grounds, and I could tell that the day was going to be action packed.
As you looked around there were all kinds of people – the younger hipster crowd was in full effect looking for some electro-inspired beats.
The oldschool candy kids with furry boots and butterfly wings out for some trance, and people in costumes just looking to express themselves in the open air among like minded people.  All this added to the energetic carnival vibe.
.
.
Mainstage:
The mainstage was impressive. Pictures almost don't do it justice.  Massive suspended speaker stacks, with an army of bass bins below, a huge 100 LED screen with full lighting system behind it producing visuals, and an immense array of lighting devices.
.

.

.
Tom Middleton:
The set of the day.  He truly knew how to work a crowd and produce a party vibe.  He started out with his usual Tom Middleton funky/deep house, but threw in all kinds of surprises. A classic Shaggy track, a few dubstep tunes, a drum and bass remix of Robyn S – Show Me Love, some breaks.  Middleton was wild! It was all over the map, but boy did it work.  He got on the mic a few times to say "what's up" and get the crowd into it.
His mixing was great too, he transitioned between the genres flawlessly and did a great job of keeping everyone interested.  If he played a drum and bass track, he'd make sure to layer an element of a house anthem over top. It was energetic, interesting, and added to the unique party atmosphere that had been building since we got on the island.  For his final track – an awesome mashup of Oribtal – Halcyon (Tom Middleton Remix) and ATB – It's a Fine Day. Perfect!
Boris:
After Tom's set, the group split up.  While a bunch went up to the Hilltop Arena to see Markus Schulz work his magic, Bobby and I decided to hang around the Main Stage and see what Boris had to offer.  I knew nothing about him while we were there – I just was hearing some great driving house, with just enough melody to keep me really into it.  I grabbed a beer, had a seat on the grass, and soaked in the great weather and the amazing music. After just over an hour of Boris and the amazing sights and sounds of the Main Stage, we decided to head up to the Hilltop Arena where Afrojack was playing.
.
Joachim Garraud:
There was something distracting – the Red Bull Music Academy Riverside Stage… As I walked by the beats, the energy and the music were infectious.  We stepped into the tent into a sea of partygoers with their hands in the air and their feet on the floor. I checked my book – it was Joachim Garraud. WOW. This guy had serious stage presence. Throwing CDs into the crowd, fist pumping, jumping around, wearing alien masks and autographing extra masks and tossing them too.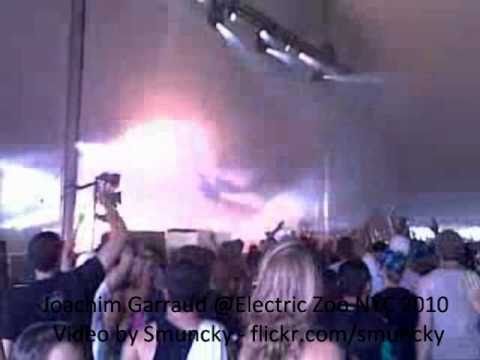 .
Afrojack:
After we remembered that we were actually on our way to a different tent – we headed to the Hilltop Arena and it was going WILD! It was so packed under that humongous tent that people were spilling out onto the sides, and going nuts to Afrojacks aggressive brand of house.  I was glad I made it up there in time to hear him drop his anthem Pacha on Acid.
.

.
.

.
Pete Tong:
He had to reset the room, so he brought the music down, and came in with a slower house sound, and did a great job of building it back up. He got on the mic (in his BBC Radio 1 voice) and said "It's good to see all you party people out so early – Glad I didn't come all the way from Ibiza for no reason!"  Technically, this was the best set of Day 1.  Tongers actually programmed a proper set with a good buildup and great musical journey.  It was all low-key-ish until he dropped a house remix of Prodigy – Breathe and then Swedish House Mafia – One, and the place exploded.
.

.

.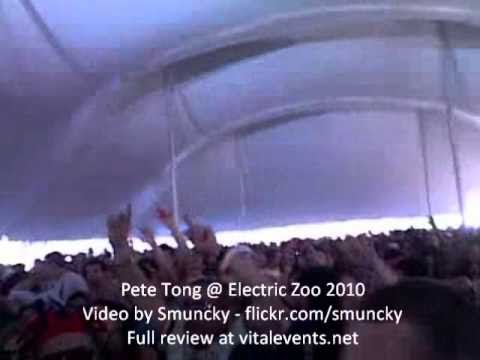 After Tong we took a break, sat down grabbed some food from the vendors and just caught our breath. We'd been going since noon and it was now after 6pm.  I meandered to the restrooms, which seemed to be in short supply. This was my second biggest complaint about the event – nowhere near enough facilities for the amount of people on the island.
ATB:
The only advantage was that while I was in the colossal bathroom lineup, I could listen to ATB on the main stage. Well, at least I thought it was going to be an advantage.  I was truly disappointed.  I had seen ATB in Florida a few years back, and really impressed me at the time.  This time around, not so much.  He was playing a proggy-trancer track and cut the song in mid play…just stopped it at a random part…then restarted the track at what seemed like a slower BPM.  I would think an artist, if they wanted to slow the tempo, could be a little more creative?  ATB did throw some cool 9pm (Till I Come) samples into the mix randomly, which was a nice touch, but I didn't stick around.
Kaskade:
After the fuel up, we caught our second wind and went back to the Hilltop Arena for Kaskade.  The place was way overpacked.  Kaskade opened up with Angel on my Shoulder – which is my favourite Kaskade tune, but then just proceeded to play the majority of the tracks off his new album. It was blatantly obvious he was promoting his new album (he had model girls running around the whole fairgrounds with big "KASKADE ALBUM OUT NOW" signs).  As a regular listener to his radio show, I know that Kaskade was capable of much more.   We stuck around until the end of the set and waited for the Swedish House Mafia's Axwell.
.

.
Axwell:
This man did not disappoint. Big tunes, great vibe, and worked the crowd like a true professional.  He opened up with "Leave the World Behind" and didn't look back.  The crowd was going wild, Dennis Ferrer – Hey Hey, Prodigy samples, Axwell's own track Together.  What great energy.
Without fail the track of the night was Swedish House Mafia – One vs Calabria. It was insanity. Our resident photog/videographer Smuncky got this one on tape:
.

.

.
.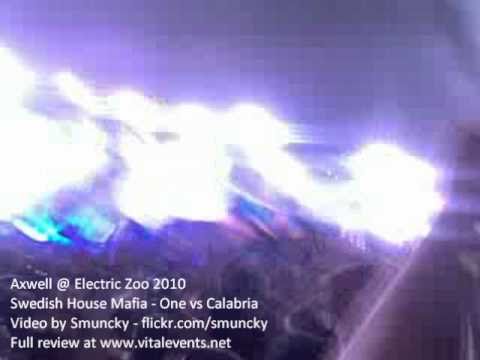 .
Chemical Brothers:
At this point half the team was toast, so they decided to make an early exit, while the other half went down to the Main Stage to check out Chemical Brothers.  This was where it went from club-festival style party, to true full concert experience.  Any videos and pictures I post just won't do these guys justice.  Huge screens, intense, complex, well-timed videos in the background – it was intense.  (The other problem was that the group that left had all of the cameras)
This is all I could pull together with my Blackberry
The only downer was that the power went out in the last 10 minutes of their show.  We thought it was over, but then they came back for one last track, and left us with this: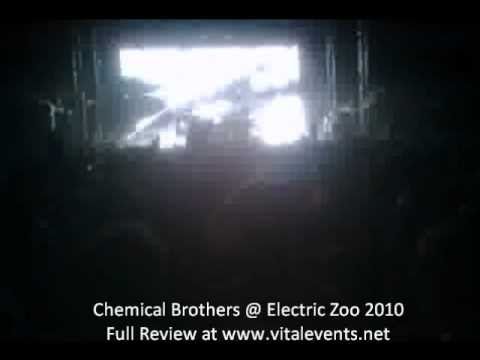 This was one of those songs that really got me into electronic music in the mid-late 90's – Its always been a dream of mine to hear this one live, and well worth the 5 minute power outage just to experience it.
Getting off the Island:
Now this was my biggest complaint, and if you'll pardon my French, was a clusterf**k.  20,000+ or whatever people, trying to get off an island, in New York City. Are we allowed to walk across the bridge? Nope. We have to wait for shuttlebuses. How many? There's 3.  Guuhhhhh. It took almost 2 and a half hours for us to get off the island and get back to the hotel.  Brutal.
But we got home and showered and blew the dust out of our noses and hair and got a good rest for Day 2.
.
.
.