Review: Electric Zoo – Day 2
Dj Endgame
| Wednesday, September 8th, 2010 |
1 Comment »
Part 2 of the Electric Zoo festival in New York City. If you havn't checked out Part 1, you can [do that here]
.
.
.
.
.
Day 1: The Arrival
We had a heck of a time getting down to the festival for Day 2. The subway was closed for our route to Randalls Island, and we were forced to backtrack. Then we decided to take a cab, and of course we picked one of the only taxi's who didn't have an electronic pay-pass to bypass the toll booth on bridge.
Avicii:

Luckily we only missed the first few minutes of the Avicii (one of the reasons why we made the trip down in the first place was to see Avicii in NYC) But we got in (quickly and efficiently, again – Kudos to the security team, they were great).
So we raced to the Hilltop Arena, got in a good spot, and watched Avicii do his thing.
Wow. I haven't enjoyed a set that thoroughly for years. From start to finish Avicii dropped house bomb after house bomb.  Teenage Crime, Hey Boy Hey Girl, Hide & Seek, Hey Hey, Nothing But Love For You, Bromance, Leave the World Behind. You name a house anthem from 2010, and he played it.
.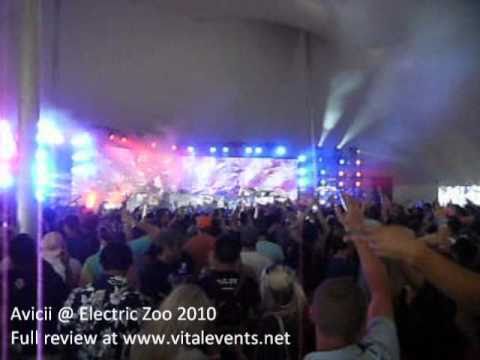 [The sound isn't Smuncky quality, but at 1:34 it gets mental!]
The best part was his mixing style.  He would let the song lead out, and mix very late in the track. What this did was create a tension.  As every track ended, it was like Christmas morning…he had us saying "What's next?!? What's next?!" every single time.  I could have listened to him go for another 2-3 hours at least. I can't wait to check out Avicii again.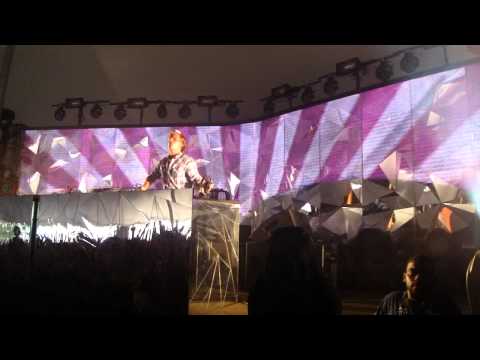 (This vid isn't one of ours, but its from a different spot, with 2 banging tunes, showing just how crazy Avicii was)
.
Laidback Luke:
After the insanity that was Avicii, we headed to the Mainstage to see what Laidback Luke had to offer.  LL brought the beefy house music. Almost verging on Electro, Laidback Luke threw down stormers, and the crowd was eating it up.  It was a little much for me, especially after Avicii's more melodic/anthemic house sound.  I got into it and we hung out on the grass just enjoying the energy of the mainstage waiting for Moby to come on.
.

.

.
Moby:

I was expecting vocals; I was expecting melodies; I was expecting a chilled out Moby. Not so. Moby was relentless. He mixed right into Laidback Luke's last track (this was uncommon throughout the festival, as usually they would stop the music for the next artist).  Smuncky mentioned that if he didn't turn around to see Moby on stage, he wouldn't have noticed the Dj change. Banging, powerful and unforgiving – Moby played hard, and played to the crowd.  It was good, but not really our style, so we headed over to Sunday School Grove for Marco Carola.
.
.
.
Marco Carola:

This was where the party was at. People were bouncing, moving and shaking under the tent – and kicking up more dust than I had ever seen in one place.  The grass had been completely stomped away from the house-heads in the Grove, and now every kick, spin and move just stirred up more dust.  You can see the haze in the pictures. That's not from a smoke machine, that's from the dust being kicked up around the fairgrounds. As the music got better, the dust got worse. 
Marco Carola was getting better and better with every track.  A whole lot of tech house with a dusting (pun intended) of melody to keep everyone paying attention.  People who thought ahead brought dust masks from hardware stores, others had bandito bandanas, which again, added to the carnival feel. (I guess they also spent more time at the Grove to know the dust was bad).
At this point I had to cover my face, my lungs were crying out for mercy.  I put my T-shirt over my mouth and nose, and carried on. Glad that I did, because Carola continued to pound out great techy numbers, and the ambience of the sunset was awesome.
We stayed until the sun went down and headed to Chris Lake
Chris Lake:

He was good, kept everything moving and seemed to have an awesome ping pong between big-room house and really dark proghouse stuff. It was a refreshing change of pace that everyone seemed to enjoy (again, easy to tell how much everyone was loving the music – the better the tunes, the bigger the dust clouds!) I didn't ID any of Chris Lake's tunes, I just enjoyed the variation and danced in the dirt with my t-shirt gas mask.
After Chris Lake wrapped up, we headed back to the Grove to see what Victor Calderone was up to, but at this point we were exhausted, dirty, stuffed up from the dust, and our lungs just wanted some clean air.  Calderone didn't give us a 2nd wind, so we decided to skip out early as Digweed was getting started (to avoid the insane bus rush at the end and so we could breathe).
.
.

.
Overall:
It was a fantastic weekend, full of a wide assortment of tunes.  Not often do you get 50+ of the world's biggest Dj's together in one place. The stages were gorgeous, the lighting was fantastic, and the sound was always good.
The thing that really made this festival fun was the people.  There were people dressed up in costume, people hardly dressed at all and people rocking band t-shirts, but everyone was there to party.  Every time I caught someone's eye as I looked around the various arenas, people smiled back.  The place was full of energy and excitement.  It was aptly named, the Electric Zoo.
.

.

.
.
.
.
Awards:
Best overall set of EZ2010: Tie between Avicii and Tom Middleton
Best technical set of EZ2010: Pete Tong
Biggest mind changer set: Joris Voorn (AWESOME!)
Craziest visuals/lights: Chemical Brothers

Best Unknown (to me) Set: Tie between Marco Carola and Boris